Rochester Schools Timeline
Education for children has always been of prime concern for Rochester citizens.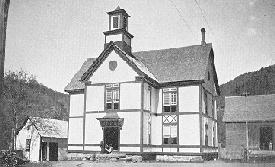 1791
Census records show 4 school districts.
1827
The brick schoolhouse in the village, located east of the Park on Bethel Mountain Road, is built at a cost of $735.
1850
16 school districts serve 522 students.
1855
A "select" private school fall term is introduced at the Brick Schoolhouse and called Rochester High School.
1886
Grades 1—12 in the village are the beneficiaries of a new school building.
1894
Rochester High School graduates its first class.
1946
Rochester consolidates its outlying one-room schools and students are bused into the village.
1956
A new elementary school with a gymnasium is becomes a reality.
1974
Rochester builds a new High School.
1994
The 100th Anniversary of Rochester's first graduating class is celebrated.