Dear Rochester Historical Society members and friends,
It is with deep sadness and a profound sense of loss, that I pass along word of the passing of Marcus Blair. Marcus passed away at his home in Randolph on March 8th.
Altho he wasn't in the best of shape, his death was sudden, and a shock to many of us. I had talked to him a few days earlier, and he said, and it sounded like, he had a bad cold. But apparently there was more going on.
Marcus and I had talked about getting older and end of life issues. He wasn't interested in living "forever" and if faced with a serious illness, he didn't want his life extended or death postponed. There is nothing "good" about his passing, but I can take a small degree of comfort in knowing his wish was fulfilled.
As the unofficial "Town Historian", Marcus was a wealth of information about the history of Rochester and the surrounding area. I often called on him, as did others, to provide information about a family or an area of town. In fact, a short while ago I had asked him about one of the families that lived in the Bingo area of town. His passing will leave a huge hole in our knowledge, but he did have the foresight to collect volumes of information which will help us fill the void.
I didn't know Marcus very well until I retired from the Forest Service 14 years ago. Then, with our love for history in general, and especially West Hill, we "bonded". I spent many hours in person or on the phone discussing many places and people. We all can honor his memory, by being active in keeping history "alive".
Please keep his family and his many friends in your thoughts and prayers.
Thanks!
Bruce
Bruce K. Flewelling, President
Rochester Historical Society
The Heart of the Green Mountains
The pastoral beauty and serenity of the surrounding hills and valley remain the same that drew our forefathers to the Rochester area.
no images were found
"The combination of high altitude, wooded hills, pure water, good drainage, together with an enlightened public spirit which maintains thoroughly hygienic conditions in town and home, renders Rochester one of the healthiest as it is one of the cleanest towns in the United States…
…Ideal climate, no sharp changes, low humidity. Winter climate rivals Swiss resorts with high sunshine percentage and little wind. Something to do all the time."
– The Vermonter, January, 1910
The Rochester Historical Society is a non-profit organization, the purpose of which is to seek out, collect, preserve, and restore those materials, records, and artifacts which relate to the history of Rochester.
We welcome gifts of items and collections of historic value to Rochester in hopes of fostering a sense of community through knowledge of our past, while connecting people to the land and our community through history, providing a legacy of Rochester's past and present for future generations.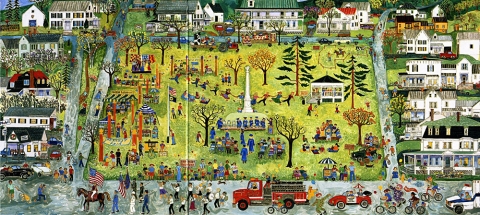 Your participation is sought, through volunteer work, becoming a member, or just visiting our Museum.